The IANS seminar is our institute-wide seminar. It includes distinguished talks by guest researchers on recent results, and is open for everyone to attend. The target audience typically starts at the M.Sc. level.
Additional talks are frequently given by M.Sc. students and researchers at the institute.
Unless otherwise stated, all seminars take place in room 7.122, Pfaffenwaldring 57.
Everyone interested is welcome to attend.
Summer term 2020
IANS seminar
Wednesday, 20.05.2020, 11:00, (Webex-Seminar)
Aleksey Sikstel, RWTH Aachen
Coupling of Compressible Euler Equations via Riemann Problems

Wednesday, 10.06.2020, 14:00, (Webex-Seminar)
Andreas Stein, University of Stuttgart
Uncertainty quantification with Lévy-type randomfields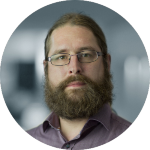 Prof. Dr. rer. nat.
Dominik Göddeke
Head of Institute and Head of Group